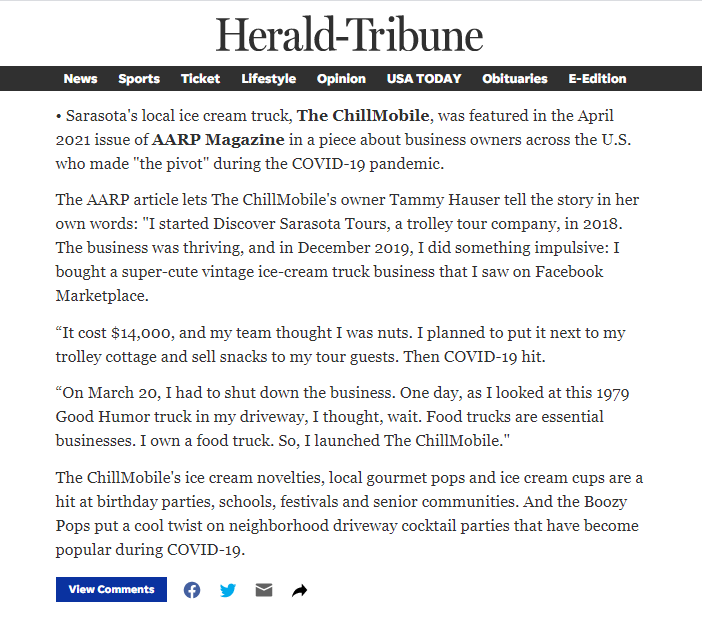 27 Apr

The ChillMobile AARP Feature In Sarasota Herald-Tribune
Business Buzz
by Herald-Tribune Business Staff | April 27, 2021
Sarasota's local ice cream truck, The ChillMobile, was featured in the April 2021 issue of AARP Magazine
Sarasota's local ice cream truck, The ChillMobile, was featured in the April 2021 issue of AARP Magazine in a piece about business owners across the U.S. who made "the pivot" during the COVID-19 pandemic.
The AARP article lets The ChillMobile's owner Tammy Hauser tell the story in her own words: "I started Discover Sarasota Tours, a trolley tour company, in 2018. The business was thriving, and in December 2019, I did something impulsive: I bought a super-cute vintage ice-cream truck business that I saw on Facebook Marketplace.
"It cost $14,000, and my team thought I was nuts. I planned to put it next to my trolley cottage and sell snacks to my tour guests. Then COVID-19 hit.
"On March 20, I had to shut down the business. One day, as I looked at this 1979 Good Humor truck in my driveway, I thought, wait. Food trucks are essential businesses. I own a food truck. So, I launched The ChillMobile."
The ChillMobile's ice cream novelties, local gourmet pops and ice cream cups are a hit at birthday parties, schools, festivals and senior communities. And the Boozy Pops put a cool twist on neighborhood driveway cocktail parties that have become popular during COVID-19.